MEETING JEFF LYNNE IN PERSON
Even knowing that everything I say will fall short, either because something may be left out or because I do not know how to express the feelings and sensations that went through my mind that day, I will dare to tell my experience in Birmingham. I have to note that once I have lived this experience, I am fully convinced that nothing of what I had previously experienced when I saw videos or photographs of events in which JEFF was involved is even remotely similar to living it from the inside. As much as I want to painstakingly recount every single detail it will never serve anyone to get the slightest idea of what it's like to experience it first hand. I hope you can understand what I am saying. Even so, I will try to make it as true to reality as possible.
It all starts on February 21st, when Mike Olley (Broad Street Director) makes an announcement about the possibility of giving out invitations to any JEFF fan who will let him know the reasons why he would like to be in Birmingham on March 13th, 2014 during the WALK OF STARS award ceremony for JEFF LYNNE and he wants this announcement to be spread as widely as possible.
I, as administrator of ELO SPAIN, announce this news in this web immediately because I consider that it is of an important relevance for ELO/JEFF fans and because Mike Olley wants to give publicity to his proposal through as many media as possible.
A few days later I go to Valencia to my good friend Mauri Martinez's house. The reason is none other than the pilgrimage to see and admire the album «LONG WAVE» that JEFF had personally dedicated to him as the winner of the contest he launched from his Official Facebook and that Mauri had already received. For me it was wonderful to have in my hands an object that had been in JEFF's hands days before. I know that only some people will understand this, but I have to admit that for me it has a special value. There, on top of that cover JEFF had put his hand days before…
After the usual photos with this album in his hands, another great friend arrived at Mauri's house, Pedro López (member together with Mauri Martínez of the band OLD FUTURE CRASH), as we usually do every time I go to Valencia, we met to talk about ELO/JEFF and share our friendship.
Again, another photo session. On this occasion, some of them, the three of us with the album «LONG WAVE» in our hands, sharing sensations and coinciding feelings about the value of this object and, by the way, joking with the dedication of it imagining that it would have been for ELO SPAIN… You can also live with illusion!
The news that makes reference to the invitations to attend the delivery of the prize to JEFF also makes us joke about the possibility of participating in this contest. And between joking and joking and not wanting to believe that we could get lucky we wrote to Mike Olley sending him one of the pictures we had taken moments before and giving a complete answer to the question we had to answer to be eligible for the prize.

José Requena, Pedro López and Mauri Martínez
I have to admit that I wouldn't have imagined in my wildest dreams that this could take us to Birmingham to see JEFF. Yet there was someone who did.
On February 22, 2014 at 7:14 pm, Mike Olley informs Mauri via email that we are on the guest list to attend the event and that we have three tickets available to us. He needs confirmation…
Mauri, with an authentic and radiant happiness contacts me and Pedro to inform us of this circumstance, which is incredible to all of us. My wife insists that it is a unique opportunity and that we should not waste it for anything in the world. I do not hesitate to tell Mauri and Pedro that we have to prepare the luggage immediately after making sure that the joke that at first I thought he was playing on me was not such.
We discuss in more detail the arrangements for each of us and the preparations for the trip over the phone. Perhaps the moment is not the most appropriate and the economic effort is important, but a decision has to be made. Pedro, for personal reasons, cannot undertake this trip even though he knows that it is a unique and possibly unrepeatable opportunity. This almost ruined all our plans, but, at the last moment we thought of moving with our respective families, both Mauri's and mine to Birmingham.
Finally and after discussing all the possibilities, Marcos (Mauri's son) will accompany us on the trip and will be our ears and voice in England because neither Mauri nor I know the language. The decision has been made and, unbeknownst to us, it is the most suitable for our purposes. I will give an account of it in due course.
From that day until we fly to Birmingham there is not a day that goes by that we do not talk about our plans and projects to face the trip. What to bring and what we are going to find.
Mike Olley, upon learning of our decision to attend the event, recommends a hotel a few meters from the Library where the event will take place and in the heart of the city. In the same Broad Street where all the stars awarded to different Birmingham artists are located, we will be able to see Bev Bevan, Roy Wood, Ozzy Osbourne and many others…!
A few days later I book a room at Novotel Centre and return flights for March 12 and 14 respectively. There is no turning back. Marcos, Mauri and myself will be in Birmingham on March 13th with JEFF LYNNE when he will receive the WALK OF STARS award from the Mayor of the city. It will be a unique occasion to see JEFF in person. There is no other purpose. Seeing him is enough. Although, if there was a chance it would be great if he could at least sign an album for us. I have to admit that we'll take more than one…
The camera, the ELO emblems in the form of pins for our jackets, the T-shirts with the ELO logos, the shirt and special suit for the moment of the event… and the excessive illusion of seeing in person who has been for more than 35 years an integral part of our family without him knowing it are taking place in a suitcase, which only wants the time to take off to Broad Street, the street of the stars of Birmingham.
Our plane leaves Alicante Airport for Birmingham on March 12th at 10:55 am. We fly over the clouds listening to «Above The Clouds» among others… engrossed by the chords of our favorite band and pinching ourselves to make sure we won't wake up from a wonderful dream that seems real.
At 12:35 local time we land at Birmingham International Airport and kiss the Holy Land. We are in the same city where JEFF was born and lived his youth. In the same city where at that very moment JEFF LYNNE is staying in his hotel or in a luxurious restaurant getting ready to eat. Breathing the same air and feeling the same weather as him. Emotions run high. Our gestures and comments make Marcos smile, who understands us but is still surprised… We are closer to JEFF than we have ever been.
We arrive at New Street Station by train and from there to the hotel we walk to soak up the way of driving on the left, the double-decker buses, the typical red telephone booths, the canals, the old red brick buildings, the English atmosphere that emanates from the roofs and permeates the sidewalks where the life of the citizens of this city goes by, the typical pungent smell due to the humidity and the green of the place…
Photos here and there until we reach the beginning of Broad Street, where the immense library appears in all its splendor. Bright and radiant it enters through the shutter of our camera to stay in the form of pixels as an immortal memory. From every angle. From all perspectives.
Inside, calm reigns. Only a group of small schoolchildren murmurs and troop through the hall of the same. Engrossed we go up the escalators to the upper floors being amazed by the wonderful construction and the number of apartments and floors that appear before our eyes, until we reach the large terrace from where you can see an impeccable view of the city and the great promenade in front of the library. Two hotels stand out above the others on the left and right in front of Broad Street and in front of this building. The one on the right is called HYATT and is possibly the tallest.
There, in the library, the next day we will see JEFF LYNNE in person… We continue on our way to our hotel along Broad Street and meet several stars on the left sidewalk as you go down this avenue. Shortly after our feet hit the BEV BEVAN star… Photos, photos and more photos. Like miners who have found a vein of gold. No hurry, no need to rush. Hand to the paving and more photos.
At the reception of the Novotel Centre we were very kindly welcomed and given the key to room 522. We went upstairs and arranged our most precious clothes on the hangers to avoid wrinkles as much as possible. We checked that we would be comfortable there.
No more than 15 minutes had passed when the telephone rang in our room to tell us that an envelope had been left at reception in the name of José Requena Conejero and that we had to go downstairs to pick it up… The invitations?
THE WONDERFUL INVITATIONS! They came with a handwritten note urging us to phone the number of a girl called Nichole, who informed us that, at 10:30 am on Thursday 13th March, she would be waiting for us in the library cafeteria for a recording for BBC MIDLANDS TV where different ELO/JEFF fans would appear answering questions from an interviewer.
Instead of being a cause for concern due to our limitations with the language, it was a spur that increased our spirits and expectations even more.
And with such a perspective we went back into the center of the city to have dinner and go in search of emblematic places to finish bathing in the British atmosphere. This time the nightlife of the city.
Passing by the sidewalk that we had not traveled so far towards the library we discovered the star of Roy Wood … Photos to record our presence there … and surprise of passersby who had to dodge us to pass.
The next morning dawned with a fog that cleared very quickly. When we left the blue sky contrasted with the «seagulls», yes, I mean «seagulls» that shone in the sun and flew over Broad Street as if announcing what would happen in a few hours near there. Our surprise was great when we saw this image and we wondered if these birds could be native to the place… This has to be solved…
The conjectures we made about this event only increased until we were completely overwhelmed. We saw many throughout that day. Curious…!
After breakfast we headed to the library, where we met up with other ELO/JEFF fans waiting for Nichole. We all introduced ourselves and discovered that we came from different countries: fellow «Face The Music» fans from Germany, «Idle Race Tribute» from Norway, fans from Denmark, England and our own country.
nternet friends who saw each other's faces for the first time and who shared a common hobby and, it must be said, would see JEFF LYNNE for the first time. Hugs and good wishes to everyone.
Nichole arrived and introduced herself and the TV interviewer and informed us that we had to follow the latter outside for the recording. As an anecdote, she showed us a preview of the prize that JEFF would have in his hands in a few hours on his cell phone.
We spent a good time in front of the cameras and recorded different scenes answering various questions and talking about JEFF and about the event that would take place hours later. There we found out that Roy Wood and all the Idle Race members were expected to be there… Fantastic news! Would RICHARD TANDY be there? For us, perhaps this was one of the most expected people.
On the way back to our hotel, we met a person who approached us when we were standing next to Roy Wood's star and who spoke our language. He introduced himself as Antonio Marin from Murcia and we shared the joy of being VIP guests for the event that was to take place in a few hours. This meeting turned out to be paramount for the purposes of our newly acquainted friend.
Back at the hotel we turned on the television and the newscast showed a preview of the WALK OF STARS award ceremony. We waited attentively for the development of the news and when it was broadcasted (around 2:00 pm) they connected live with the library, where an interviewer was talking to JEFF on the terrace of the library. A sign on the screen announced «LIVE», and with no time to lose we walked the distance from the hotel to the library in only 8 minutes… and we discovered that JEFF LYNNE'S STAR was already in place, right on the corner of the SYMPHONY HALL with the Library and in front of the door of the HYATT Hotel. The surprise caught us off guard unloading all our photographic artillery to immortalize the moment.
Our disappointment came when we appeared on the terrace of the library and neither the TV crew nor of course JEFF was there. We were late. By the skin of our teeth… Seagulls were flying overhead.
As we left the library, the sign we had seen the night before was displayed on the doors announcing that the library would be closed from 5:00 pm on March 13. The library would be all ours from 7:15 pm.
We retraced our steps to continue photographing the newly opened JEFF LYNNE STAR. People passing by were surprised to see our joy. We were euphoric and happy, JEFF HAD HIS STAR ON BROAD STREET! and we had it in front of us. We polished it up by placing our hands on it and then we polished it off with a camera flash and started all over again… We were kids with a huge bag of candy. We considered ourselves happy in front of a vein of diamonds. Our cameras were filled with the same image over and over again.
After a short rest at the hotel, we prepared to go to the awaited event. As Rosie Vela used to say in the song IN MY OWN TIME «Where are you going…», «To the library…», «Where is it?»… …in Birmingham….
We go to see JEFF LYNNE in person and the seagulls seem to turn into butterflies in the stomach. The street is buzzing with traffic and people are going from one place to another. It's getting dark and the lights, already on, illuminate Broad Street as if it were Christmas. It's just over an hour before the JEFF LYNNE tribute act begins.
As we reach the corner where JEFF's star is, we can see the large esplanade in front of the library and the crowds of people in front of the door. Have any well-known personalities arrived yet?
As we approach, we see the colleagues who were with us in the morning. The ones who had been with us filming for the BBC. We greet and see many other fans like Jim Hoban, Jeff Cooper, Martin Kinch… We take pictures with all of them and chat about what is to come… about the moment we are going to live with great intensity. Nerves are getting on our nerves…

Together with Martin Kinch

Together with Jim Hoban

Together with Jeff Cooper

Together with several colleagues from Noruega (IDLE RACE TRIBUTE) and Dinamarca

Together with Dave Pritchard de IDLE RACE

Together with Dave Morgan

Together with Thomas Walsh (Pugwash)
Around the appointed time (7:10pm) Phil Hatton, a close friend of JEFF's, appears as an announcement that JEFF will be there soon. While he is on his way to the HYATT Hotel, someone tells us that JEFF is staying there, in front of his STAR and very, very close to the library. From the door we can see this hotel perfectly and PHIL's footsteps head for the entrance with haste.
At this, RICHARD TANDY appears with his wife and our surprise manifests itself in unbridled joy: RICHARD TANDY HAS COME! Sparks fly from the cameras and requests for photos with him overflow. It's a magical moment and he signs autographs without any problem. TANDY shows his kindness to everyone who approaches him. We are all surprised by his kind attitude.

José Requena, RICHARD TANDY, Mauri Martínez and Antonio Marín
Immediately after we are told that those who have an invitation must enter inside the library and, through the central corridor, we enter between a security cordon that separates on both sides the congregated staff that will not be able to attend the event because they do not have the invitation, but they will see JEFF enter and, supposedly, they will be greeted by him. In the end this is not possible for security reasons.

Arrival of JEFF LYNNE at library entrance
We show the invitation and access through the red carpet to the escalators that lead us to the second floor where a group of young musicians perform their own songs live. They call themselves IDLE and consist of five members: Elliott Hunter, Charlie Thompson, Anthony Jones, Zack Hodgetts and Freddie Bostock-Voss. They tell us that they are from the Shard End neighborhood, the same one where JEFF lived his youth. Attentive waitresses serve us a choice of champagne or juice before we go to the second floor. Many more people congregate there. It is the bulk of the guests.
We go out to the terrace and take a picture returning to the interior where we see that there is a large table prepared for the agape and another with some gift boxes for the ladies.
From the railing of that floor we see for the first time JEFF LYNNE in person. He enters the second floor surrounded by two impressive bodyguards and several members of the local police. We can't take our eyes off him.
IT'S JEFF LYNNE…!
He greets some companions and remains there for a few minutes. From above we are stunned by his presence. Our purpose is finally fulfilled. Everything makes sense. What we had been longing for for so long now has its reason for being. The seagulls were announcing it all day long. All those present are only waiting for him. The library has closed and 190 people have stayed with JEFF to honor him in the presentation of his WALK OF STARS. The ceremony can begin.
In a special section prepared for the event we see the staff who have already taken their seats waiting for the moment when JEFF LYNNE's presence is announced.
The atmosphere there is overwhelming. The walls display large scale images with motifs related to JEFF's work: TRAVELING WILBURYS, ELO, an impressive photograph of JEFF and several monitors showing a video with related images. In a nearby place a photocall collects ELO album covers and JEFF's productions for other artists. Everything there is a set of harmony and respect for what we are going to have the immense luck to witness. Jasper Carrott comes on stage prepared with two chairs and presents a video about JEFF's life and work and then announces the arrival of JEFF LYNNE which is welcomed with a warm ovation. The hearts beat to the rhythm of ELO and JEFF appears grateful and smiling with his hands raised. Our dream has come true. He is right in front of us. Just a few steps away. The creator of so many melodies and lyrics that have made us live in a dream is in front of us. So many images, so many melodies, so many memories cross my mind… My face must be a poem…
The interview goes by without haste and with a respect from all the attendees that makes it seem like a magical ritual, and in fact it is. JEFF is very grateful for the award and considers this one of his greatest tributes in the city where he was born and raised. The interview continues under the attentive gaze and absolute silence of those present.
Once the interview is over, the Mayor of Birmingham gives the WALK OF STARS award to JEFF LYNNE, who receives it with great pleasure and the applauses are again loud in the room. Everyone on their feet cheers the honoree and we immortalize the moment with our cameras. The main event has been carried out with the greatest possible solemnity and we are all more than satisfied and proud, as if we had picked up the award ourselves.
The congratulations to JEFF are an overflowing river. The photographs with him do not let him take a step. The official photographer of the event is not enough and everyone is looking for their own moment with the ELO leader to get an autograph or a picture with him, but the bodyguards do not let them approach even a meter beyond the perimeter they have delimited. They do their job and perfectly control the movements of JEFF who tries to avoid, as far as possible, that we all rush at once. The best way is to go around the gap between the floors of the library. This way the fans and other guests can approach more slowly and in a controlled manner.
Up to three times I am so close to JEFF that I can almost touch him, but one of the immense masses that cover him does not allow me to do so. He looks at me and looks back and forth with an angry face, avoiding leaving a gap to pass through. At a moment in which JEFF is free from the constant harassment of admirers, he turns and we cross our gazes passing a few seconds that seemed eternal to me. I guess it was actually four seconds. That look was an accomplice of mine because it gave the impression of waiting for me to step forward and introduce myself, but my reaction was static, not because I didn't want to but rather because I couldn't or didn't know how to react in time. Besides, the mass in front of me prevented a possible intrusion into its perimeter. I thought I had lost the only opportunity. The incredible and surprising thing for me is that this same thing happened again on two more occasions but, much to my regret, with the same result.
Just when I thought I had lost everything I saw Phil Hatton in front of me, JEFF's close friend who is always by his side every time JEFF steps on English soil. He was my only hope since I had spoken to him several times through Facebook and he was always a very nice and attentive person who responded to my messages. My reaction was immediate. Like a flash I showed him the three albums I was holding in my hand and asked him if JEFF could sign one of them for me. Phil needed no further explanation. He took the three records from my hand and led me through the crowd behind JEFF LYNNE. He talked to him and the bodyguard and the bodyguard led the way to JEFF. I told him that my name was José Requena from ELO SPAIN and he, as if he recognized what I was saying without hearing me, nodded and showed joy and said something that I couldn't understand, either because of my daze or because my senses were momentarily blocked. He signed the single «Latitude 88 North» and handed it to me. He signed «Long Wave» and handed it back to me. And to finish he signed «Armchair Theatre» and gave it to me as well. I shook his hand thanking him and I tried to say that his music has been part of my life and at this moment my friend Mauri Martinez and his son Marcos appeared from behind and followed my movements.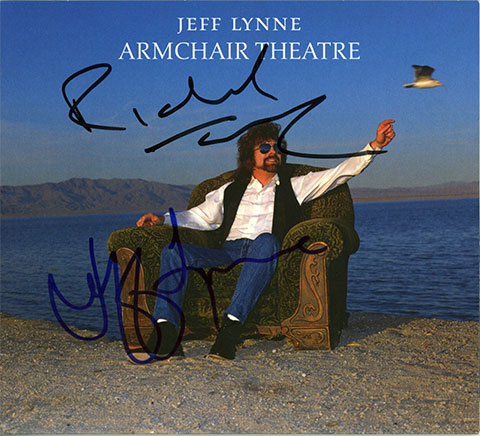 We had in front again one of JEFF's bodyguards and just to his left RICHARD TANDY with his wife, and Mauri went forward and asked him if he could take a picture with JEFF, to which TANDY kindly answered yes and approached JEFF to talk to him in his ear. Again the door opened and seeing TANDY moving away from the place, Mauri told him that he also wanted to be in the same picture, to which he agreed without any problem and stood to the left of JEFF. We quickly took our positions and waited for the photo that would immortalize our presence with JEFF LYNNE and RICHARD TANDY, something we would not have imagined even in our best dreams.

José Requena, Mauri Martínez, JEFF LYNNE, RICHARD TANDY and Marcos Martínez

José Requena, Mauri Martínez, JEFF LYNNE, RICHARD TANDY and Antonio Marín

José Requena, Mauri Martínez, JEFF LYNNE and RICHARD TANDY
It was the most wanted photo, because there was no other photo in which JEFF LYNNE and RICHARD TANDY appeared together during the rest of the event. And there, right at that moment we were by his side.
After all the expectations were fulfilled and all the thirst to see JEFF in person was quenched I approached the table where there was a special lunch and tasted some delicacies that were there trying to relax after so many nerves and stress.
JEFF was still being chased by those who were still looking for a meeting with him. In my hands I still had the three signed albums and the marker that JEFF had released. A gift that I will keep as a real treasure together with the invitation and pictures with him.
After this I was able to pick up Roy Wood's signature on «No Answer», who, curiously enough, signed it for me without having to say anything to him, since he jumped in as soon as he saw me approaching him. We also took a snapshot with him, as well as we were able to say hello and take pictures with Thomas Walsh and see artists like Brian Adams (to whom JEFF is currently producing some of his new songs), Dave Morgan, all the members of Idle Race, Trevor Francis (soccer player)…

Together with Roy Wood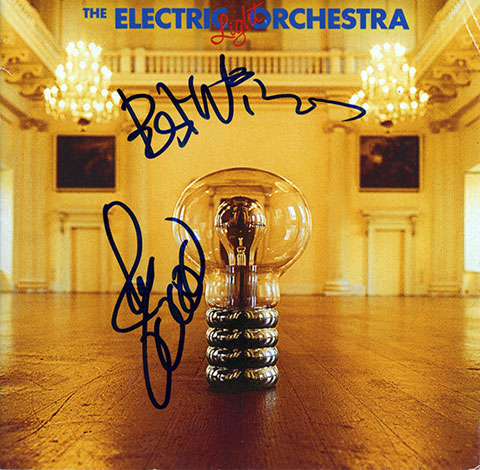 Shortly after, from the same place where we saw JEFF's arrival in the library, we saw his departure. JEFF was leaving. I couldn't help but call out to him «JEFF, JEFF, JEFF…» I meant to say «Bye JEFF,» but he didn't look up although I'm sure he heard it.
He escorted down the stairs and took off leaving us completely aboard his wonderful spaceship flying over a cloud above which the sun was shining showing «Mr. Blue Sky»….
We had seen JEFF LYNNE, and not only that, he had signed three albums, we had shaken his hand and we had taken a picture with him and RICHARD TANDY! Woooow! A great achievement that I would like to dedicate to each and every one of you who visit this website and share the same hobby as us. Those friends who are ELO/JEFF fans will be able to understand this chronicle better. Those who are not so much may be surprised by some expressions, but it happened the way I have told and witness of it is Mauri Martinez and his son.
What happened from here on is no longer relevant. I will only say that I could not sleep and that I spent most of the night sending Whatsaap with pictures to friends in Spain. Among them Pedro Lopez, who, even in the distance was surprised by the comments and congratulated us for what we had achieved. I wish you had been with us in these moments!
The return to Spain took place on March 14. At 14:15 our flight took off from Birmingham International Airport to Alicante. There was no sadness or disappointment in us. It did not fit in our swollen heart, full of illusion and joy. We listened again to «Above The Clouds» among other ELO/JEFF songs as we flew home, leaving behind an indelible day in our memory. A day made possible by, among others: JEFF LYNNE, Mike Olley, Phil Hatton, RICHARD TANDY, Mauri and Marcos Martínez and all those who made me spend one of the most unforgettable days of my life.

Marcos Martínez Játiva
One of the biggest thanks I have to give to Marcos Martinez, because without him it would not have been possible to understand and express everything when it was necessary for us to understand and communicate. From the moment we touched the ground until we took off again he was our ears and our voice there in Birmingham, something that was essential and necessary to undertake our journey.
To Mauri Martinez for his company and his contagious enthusiasm to see JEFF. For his friendship always available to anyone who needs it and for his understanding when one goes out of his mind. He prevented me from calling JEFF from the balcony when he was leaving. Everyone but him was turning around and Mauri retreated backwards, pretending and making me see that enough was enough… I just wanted to say goodbye to him… Bye JEFF!….
To Mike Olley, for making the impossible possible. For making an unmissable dream come true. For inviting us to have a «snack-dinner» with JEFF LYNNE… Who knew…!

Together with Phil Hatton
To Phil Hatton, for fulfilling his promise to me so beautifully… For understanding me and for bringing me in front of JEFF when all seemed lost. For making my way in front of JEFF's bodyguards and telling him I was there and signing the records he put in his hand. Thanks Phil for being so accessible.
To Richard Tandy, for being so kind, both at the library door signing everything we put in front of him and inside, when Mauri asked him to pose with us with JEFF. A lovely person.
To JEFF LYNNE… for all that his music has meant to me since I was fifteen years old. I consider that his music is the soundtrack of my life and that he is part of my family even if he doesn't know it, considering that I have been following him for more than thirty-five years. His music has always accompanied me. In the good and not so good moments of my life. THANKS FOR YOUR MUSIC JEFF.

And… of course… to my wife… To Anto, for doing the impossible for this to happen, so that nothing would prevent me from fulfilling this wish of mine. For always being willing to prepare the trip… for wasting whole days looking for the perfect combination of buses to get to JEFF's house in Birmingham (although finally it was impossible to go there due to lack of time), for preparing maps with the most emblematic places of the city. For looking for accomplices and travel companions. For being the engine of my life together with my two daughters who have also lived it with me in the distance. For your support at all times… I have no words… and I don't think I ever will… THANK YOU… ALWAYS….
Photos: José Requena, Mauri Martínez, Antonio Marín and others fonts of internet.